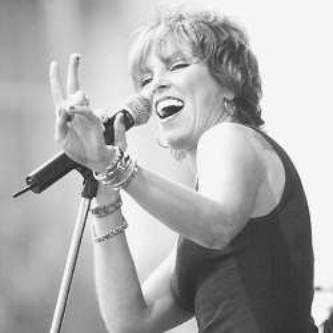 MARK MULVILLE/Buffalo News
Pat Benatar performed before the largest crowd ever at Thursday at the Square.
By TONI RUBERTO
News Staff
8/10/01

The buzz that's been building since Pat Benatar's name was announced in the Thursday at the Square lineup exploded last night with the thunderous applause of a record-shattering crowd of more than 45,000 people crammed into every nook, cranny and office rooftop around Lafayette Square.
The number obliterated the previous high of about 28,000 set earlier this season by Kim Mitchell and more than doubled what's been the usual 18,000 to 20,000 weekly estimates over the past two years. An endless sea of people packed Main Street, shutting down a patch of Metro Rail service, and flowing down Court Street seemingly to City Hall.
What was happening on the stage was just as amazing, as Pat Benatar, husband Neil Geraldo and their band exploded with a nearly two-hour set of powerful rock that shook downtown Buffalo.
The bewitchingly attractive Benatar's glorious smile was in full bloom from the moment she walked on stage and took in the sizeable crowd. The Grammy Award-winning singer immediately proved that her vocals are better than ever by jumping into the range-stretching "We Live for Love."
Anyone who thinks Benatar and Geraldo were in their prime 20 years ago should see them now, as their chemistry ignited their passionate rock. Her voice and his guitar created an appealing elixir for rock fans hungry for intensity and emotion. They rocked through the classic anthems "Invincible," "We Belong," "Hit Me with Your Best Shot," and then literally kicked butt on the powerful "Heartbreaker."
When it was time to take things down a notch, they did it without losing anything. Benatar's moving performance through "True Love" showed how her voice was made to sing sensual blues. The adoration the couple has for each other after more than 20 years together was evident as Benatar playfully led Geraldo around the stage while he was letting off some pretty mean blues licks. The set included the title track from their upcoming release "Girl," a guitar-driven song showcasing Geraldo's crunchy grooves.
The couple took time to sit on stage alone for the beautiful duet "Every Time I Fall Back," a song Benatar said they were playing in concert for the first time since it was written for 1993's "Gravity Rainbow." They ended the number with an affectionate hug before sharing a quietly intense acoustic version of "Love is a Battlefield."
One of the most touching moments was when Benatar introduced "Hell is for Children."
"We play this song every night in solidarity for the children so they know they have a voice and someone cares for them," Benatar said before launching into the song, her anger with child abuse spewing through her vocals as if it was the first time she was singing it.
Their daughter's band, Glo, a trio of beautiful young singer-dancers in the Britney Spears' mode, took the stage to perform three songs. The sight of the proud Benatar standing off stage and singing along with her daughter was a perfect fit with the magical night.
Buffalo News, August 10, 2001