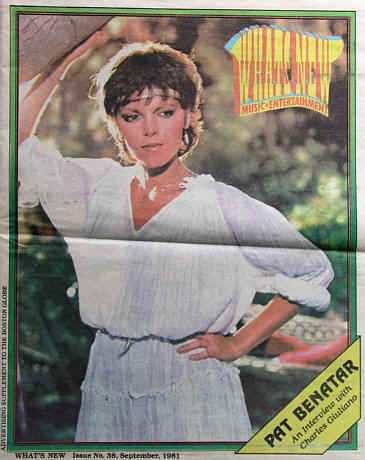 Pat Benatar: Rock's Coloratura Takes Some Tough Shots
An interview with Charles Giuliano
It was hotter than hell as a sultry August moon hung over the sizzling tin roof of the ersatz Cape Cod Coliseum. The kids poured in first come first served, "festival" style as it is referred to by promoters. In the sauna-like Cape Cod sports arena, the guys took off their shirts and the girls wore tank tops and leotards.
Out on the floor, where the ice is laid in the winter, the kids were on their feet, belly to rump, for the duration. To leave a spot meant the risk of losing it, so even during the intermissions they stayed put. And with a combination of heat and humidity, some of them started to pass out, as their bodies were passed forward over a barrier, in the front of the stage.
Was it worth it: Are you kidding!
"That was one of the toughest gigs in the entire tour," commented Pat Benatar who was headlined at the Coliseum with Billy Squier as the opening act. That week, Benatar and Squier were also sizzling on the charts with the number one and two spots in Boston.
The Benatar tour had started earlier that month and it will continue through November. Sweating it out on the Cape, however, has not been the only heat that she has had to take. While the latest album, Precious Time, Chrysalis Records, has sold well, it has not been as enthusiastically received by the press as her previous two releases. And the road has been rough as well as rocky. She and Neil Geraldo, her long time lover and collaborator/arranger/guitarist, are no longer a couple. On top of that she has been ill with a chronic sore throat and the general miseries. Because of these problems, Benatar has severely curtailed the promotional appearances and interviews that normally accompany a major tour and album release. In the past two years, and mercurial success, she has earned a reputation for being tough and somewhat remote when not on stage.
While Benatar is as vulnerable s the rest of us, none of this evident when she's on stage. Wearing a gold, metallic leotard top with padded shoulders, black tights that revealed lots of cheek, and spike-heeled, black mini-boots, she roamed the stage with feline grace and ferocity. When she performs, she seems to prowl and prance weaving a mesmerizing spell over an enchanted audience. There is enormous charisma in her presence that seems to enlarge her diminutive presence. She is small enough to appear fragile but her tough stance and catlady manner denies that impression.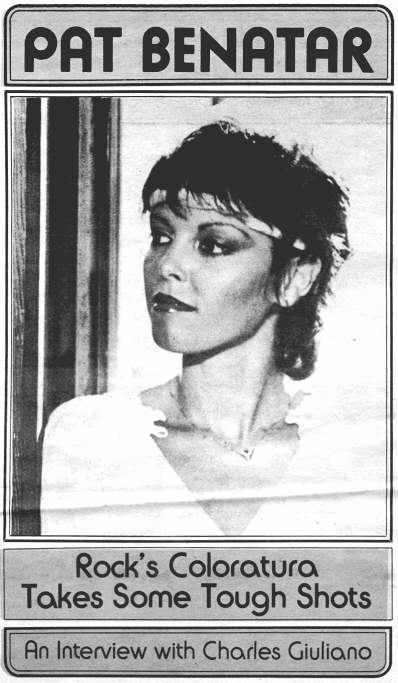 It wasn't always that way, however, when she grew up in the small town of Lyndenhurst, Long Island where she studied voice, "My mother had been a singer with the New York City Opera," Benatar said, "but when she had me, she quit. I was trained as a coloratura but quit just at the point where I would have been going on to study at Julliard. It was just too hard to be staying home singing Verdi while the other kids went to the beach. And all the time that I was training I was also listening to rock music, so it eventually got to be a big conflict."
This background in voice training is unusual in rock and we asked if she had seen it as a help or hindrance? "I was 22 by the time I started to sing rock," she explained, "so at first I was very conscious of technique and I was overly technical. That proved to be inhibiting so it was a disadvantage until I began to sing intuitively. That's the only way to sing rock – from your gut level feelings. It's the instinct that the best singers have."
The years of training have paid off, however, in knowing how to treat her voice, "I'm very strong," she said, "and I expect my voice to hold up for a long time. I've been getting sore throats, but there's nothing seriously wrong. On sage, I can hold out for a long performance and I think that we put on a really good show."
"We're an honest rock act," she commented. "We don't go out on stage and light smoke bombs or set off firecrackers. Instead, we just make good, tough, rock and roll music. The kids have responded to us and they appreciate what we do. That's why, as rough as it was, the performance at the Cape Cod Coliseum was one of the best as well as the worst on the entire tour. It certainly was the most memorable. It was intolerably hot on stage, but I really believe that a performer has to sweat. If you don't sweat, you don't feel that you have done anything. The audience was great that night and that's what kept us going even though it was far more draining and exhausting than any other performance that we've had on this tour."
Clearly, Benatar puts out for an audience and she leaves the customers satisfied. But we asked if she is really as tough as that lady who prowls the stage using her mike as either a whip or a magic wand? "Not really," she laughed, "that's not really me on stage, it's more of a composite, an exaggeration of certain aspects of my personality. It's an image that I've created, a kind of character. I wanted to project the multiple facets of a woman's personality. Basically, a woman doesn't have to be hard ass all the time, she can be soft and tender as well, and she can be a good businesswoman as well as a nice person. She can be pretty and smart at the same time."
"Sometimes," she explained, "people make such a big deal about it that it drives me crazy, the way people see me and think what I am. It's ridiculous the way some people react to who I am."
Because of her phenomenal success in the past couple of years, she has been subjected to enormous pressures. She feels that despite everything else she's still the same woman who came to New York in 1975 to try her luck in the music business. "There was a long period of three years," she recalls, "when I spent my time taking demo tapes around and being rejected by one record company after another. Then just two days after the debut concert with the band, we were signed to a record contract and it has been uphill ever since. It just never stopped getting bigger and bigger after that."
Their success caught them by surprise, "I met Neil through Mike Chapman," she recalled, "and after our record came out we ere on the road for seven months before we even knew that we had a hit. It was a matter of being in the right place at the right time and I seemed to fit into what people were looking for in a new kind of female rock singer. After that, it seemed that there has never been any time to catch up, there is just one commitment after another. When you wake up, even as you start the day, it seems that it's already too late. Sure there was a big lifestyle change after that but inside you're still the same person.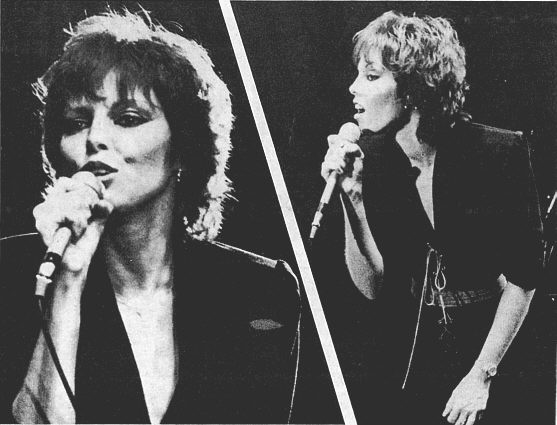 Eventually, however, the pressures changed her relationship with Geraldo. "It came down to having a career," she said, "or being Mrs Geraldo. We both love our careers too much to give them up. We could either be lovers, or work together. One or the other had to go. It's been really hard as this all happened in the middle of a tour, but the easiest part is when we're on stage together. We're not lovers then, but rather, we're just musicians. There's a professional relationship that takes over. Being on stage and performing together isn't any problem, that's the cool par – it's all the time in between that's hard."
This is not the first time that Benatar has had to choose between a career and a relationship. One of the reasons for her late start as a rock singer occurred because of a marriage during which she performed in the role of a traditional housewife, giving up her career in music.
Somehow it seems even harder for women performers to have fulfilling personal relationships. How many men, for instance, are willing to wait around all day at airports and hotels. Bette Midler portrayed those conflicts beautifully in The Rose. "I just don't know if it's possible to have both (career and relationship) at the same time," Benatar said. At least for now, however, it's clear that she is choosing to continue a truly phenomenal career as a performer.
Just how will the breakup between Benatar and Geraldo change their working relationship and musical output? Will they, for instance, produce something like Fleetwood Mac's Rumors? "The latest album had several songs that dealt with what Neil and I were going through," she responded, "songs like, Promises In the Dark, Hard To Believe, and Precious Time, all deal with that theme. We were friends before we were lovers and we'll be friends again. Neil has plans to be involved with producing other acts and he has a couple of projects lined up. But we'll continue to write sons together, we have no plans to break up our professional partnership."
Overall, you come away with the impression that Benatar is far more shrewd and mentally astute than your average rock and roller. Her trademark toughness is mental as well as a trait of personality. Already, she is thinking of the future and long range plans.
"I can't see myself doing this when I'm 45," she commented with a laugh. "That's why I have other plans for the future. I'm particularly interested in acting and a career in films. Right now, I'm looking at a number of different parts but I don't want to make just another rock and roll film. I'm interested in a dramatic part. On the other hand, I would consider a biographical film in which I portray another person. There's a script about Judy Garland for instance, that I'm looking at. I've done some acting before but I'm not interested in doing musicals. Right now, we are preparing for a screen test as it's all a matter of how I look on actual film."
Expect to see Pat around for a long time, as she sets out to prove that there's life after rock and roll.
From What's New, Issue No. 38, September, 1981.
(A supplement of the Boston Globe.)